Frameless Shower Screens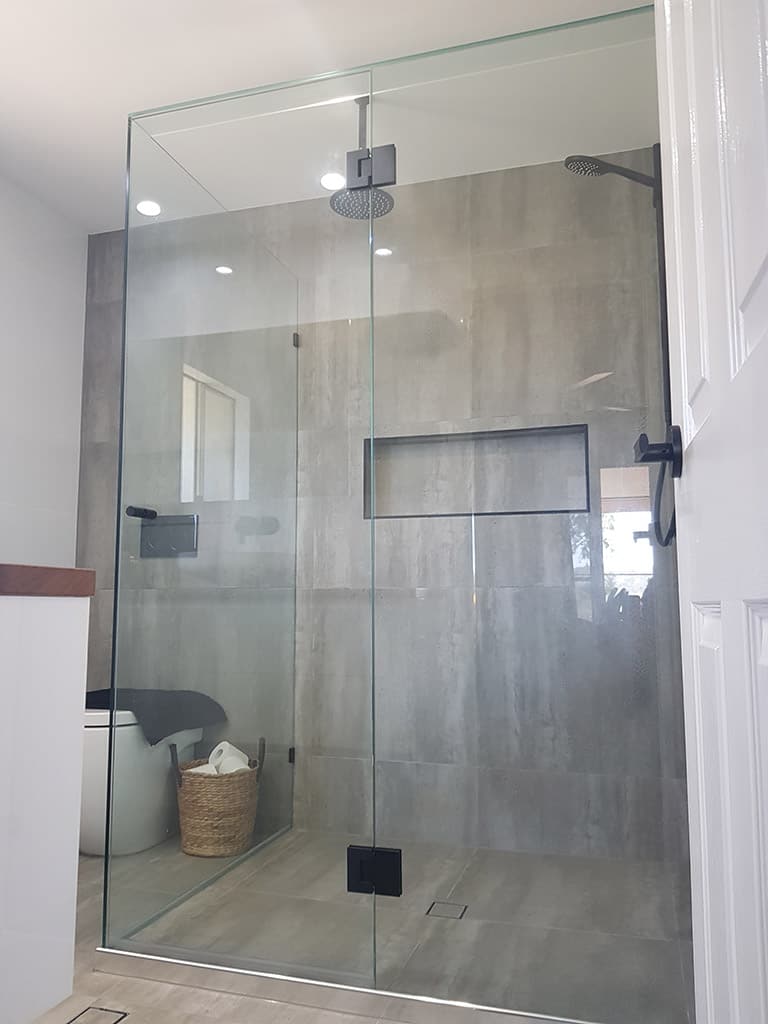 Our classic range of frame-less shower screens is a superb feature every bathroom and a classical, timeless statement of style and distinction.
Made from Australian toughened Grade A safety glass to the most exacting standard that is both decorative and safe.
Complemented by our superb European inspired range of top quality gold, chrome or coloured fittings our frameless shower screen is a visual statement of the best in design and elegance.
We offer Architects, Designers, Builders and Home Renovators the best possible advice and design skills.
Our Frameless Shower Screens
Glass– 10mm Australian toughened Grade A safety glass
Superb Hardware – The choice of hinges and fittings is the most important decision for your frameless shower screen. Our range of hinges and fittings are the recognised leaders in quality and design and are available in a wide range of styles and finishes to suit every need. A beautiful and functional addition to your shower screen.
Hinges are solid brass finished in gold, polished and satin chrome or other selected powder coated finishes. Our hinges will operate over a 180 degree arc with a positive return to a central position.
Door Size – To maximum 2 hinge width of 750mm X 2000mm increased size can be accommodated with a 3 hinge application.
Custom Design – Our service also includes the supply of custom designs for special angle hinges and brackets.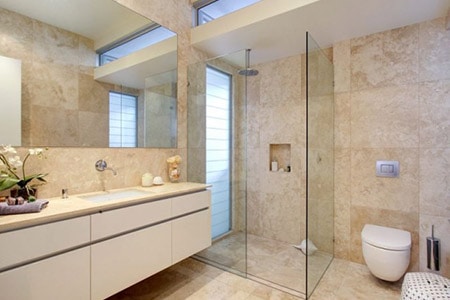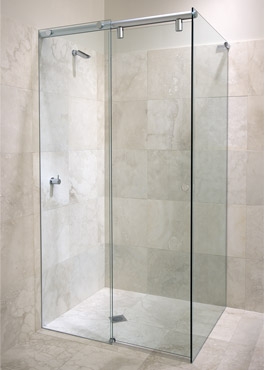 Hydroslide Frameless Sliding Shower Screens
Hydroslide frameless shower screens offer versatility, are architecturally superior, safe and secure, reliable and revolutionary.
The Hydroslide shower enclosure system can accommodate a wide range of shower designs with fixed glass panels optional on either or both sides of the door at 90 or 180 degrees. The Hydroslide system also accommodates the option of floor to ceiling fixed glass panel over the door opening for complete design freedom.
The Hydroslide door rail also provides safe and secure fastening of the glass side panels reducing the need for additional brackets or supports. The Hydroslide fittings are designed for 6, 8 & 10mm thick toughened safety glass.
The fully integrated simplicity of the Hydroslide system together with the elegance of a fully frameless glass finish, will accommodate the most discerning design requirements. The Hydroslide fittings are available in two standard architectural finishes, polished chrome and satin chrome. The aluminium door rail is available in natural or bright silver anodized aluminium.
The revolutionary Hydroslide system combines an efficient enclosed roller operation with a sublime easy to clean frameless glass finish.
The Hydroslide door rail design of form following function combines a minimalist, strong and elegant finish with an effortless sliding operation. No risk of derailment and no more frustration from juggling traditional framed sliding door designs.
Gallery